Peersonic now provides SonoBat 4-UK. for viewing, analysing and auto-classifying (to species level) echolocation calls of UK bat species. SonoBat Live can also be used in the field for real-time classification, and this is included in the licence.
SonoBat operates on full spectrum wav files, to analyse and identify bats without collapsing the data to lossy zero corssing formats.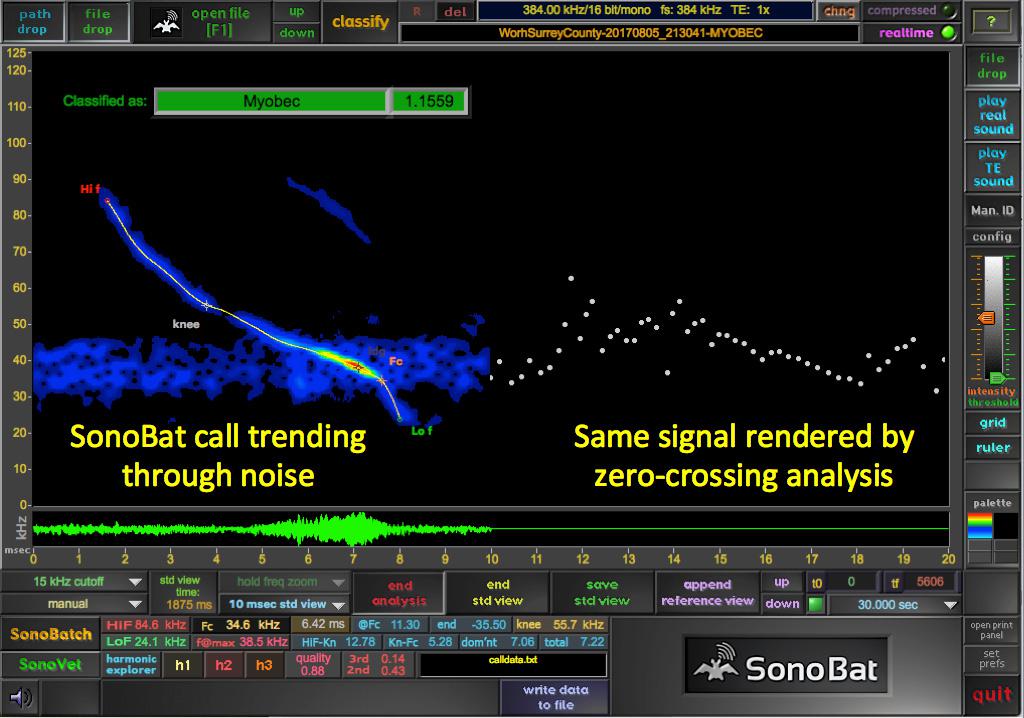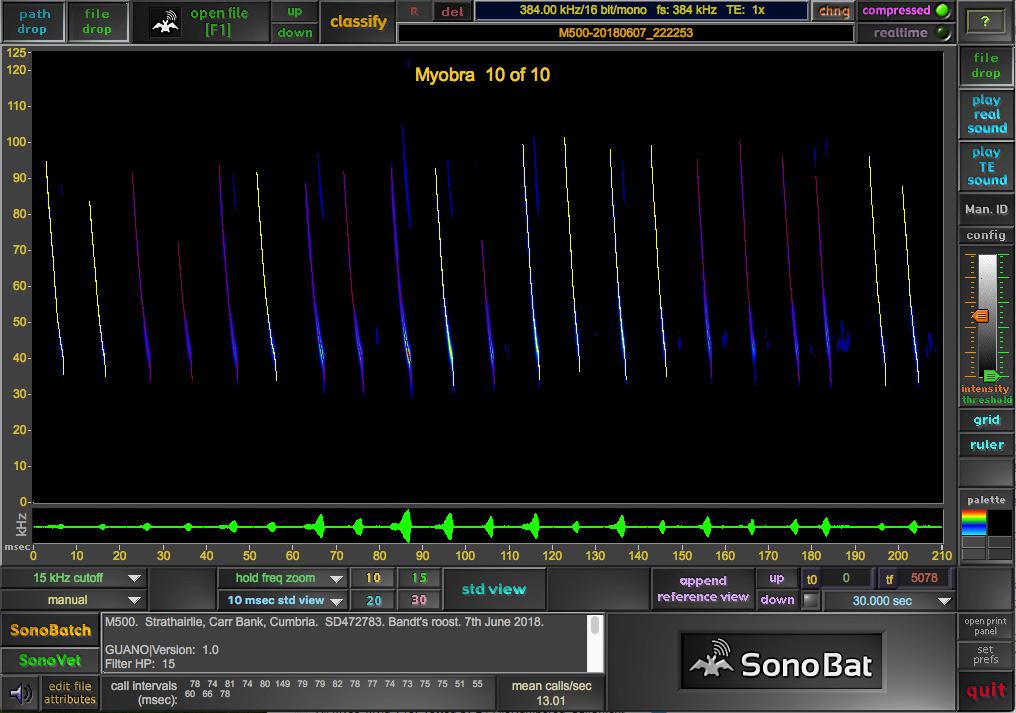 SonoBat 4-UK will work with files from any full spectrum equipment including the Peersonic RPA3. It is focussed on reducing false positive results on multiple bat passes, irellevant noise or ultrasound competing creatures such as crickets.
SonoBat 4 -UK has been qualified using over 30,000, verified calls from known bat species, all recorded within the UK or Eire. The opening picture shows classification work in process on fully identifed bat, hand released , but allowed to settle into a natural call sequence.
In short, SonoBat4 UK, gives the best recognition results per species of UK bats. It also has an ecellent reptutation for discriminating between Myotis species.
SonoBat 4-UK will quickly analyse batches of thousands of recordings, to speed this up, erronius recordings can be scrubbed out pre analysis.
There are many attributes included that make documentation of recordings highly dependable for reports and critique.
SonoBat-UK can be purchased from Peersonic. Please use the contact page to make your purchase.
Pricing
£320 inc. VAT annual for three years, after which the licence is perpetual.
£880 inc. VAT for an upfront perpetual licence.
The software is supplied for single user installation onto both laptop and desktop equipment.
A free viewer is available, this demonstrates the powerful reference data view option, as well as general analysis features.
Discounts are availble for Bat groups , Universities and Charitable trusts.


Packaged pricing discounts on hardware are avilable on RPA3 and Weatherproof units when purchasing together With SonoBat4-UK.
To find out more :
To purchase
Use the following link, or contact Peersonic via the contacts page.
Contact us : Peersonic Ltd, Ultrasound Recording Equipment, Phone 01753 852 946
Copyright © 2017 Peersonic Ltd | Company No: 8302854